Ways Prenatal Chiropractic Adjustments Can Improve Your Pregnancy
Ways Prenatal Chiropractic Adjustments Can Improve Your Pregnancy

Prenatal Chiropractic Adjustments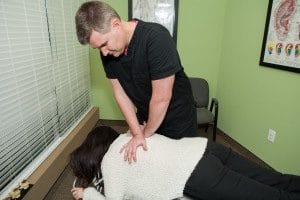 When pregnant, your body undergoes physiological and endocrinological changes necessary for your developing baby. Hormones relax your ligaments so your baby's head will fit through your pelvis, but these hormones (combined with your beautifully swollen belly), resulting in a rapidly lowering center of gravity. Your spine suffers, which means you probably have lower back pain, problems with your sciatic nerve, and other discomforts.
While pregnant, most women experience:
Increased back curvature (accommodating for the protrusion of your belly)
Pelvic tilt changes
Adaptive posture when walking, sitting, and standing, some of which can result in misalignments
Nausea and exhaustion
In some cases, pelvic tilt changes result in a restriction called intrauterine constraint. This problem can complicate delivery since it can make it more challenging for your baby to get into proper position before you go into labor. Breech and posterior positions interfere with natural birth, resulting in a higher chance of a need for a C-section or other interventions.
---
How Prenatal Chiropractic Adjustments Can Help
Prenatal chiropractic adjustments provide the following benefits:
Less nausea
Improvement of immune system functionality and better sleep, allowing your body to function at optimal capacity
Reduction of time required for labor and delivery
Fewer incidences of back, neck, shoulder, and joint pain
Higher likelihood of natural, unimpeded delivery
Click here to read a Pub Med summary of current literature examining prenatal chiropractic adjustments.
---
Looking for a Huntersville Prenatal Chiropractor?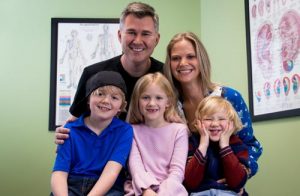 Give us a call or use our online contact form to make an appointment. Dr. Doyle will answer any questions you may have and help you come up with a holistic plan for the healthiest pregnancy possible. Dr. Doyle has three children of his own and has a great deal of experience working with women before, during, and after pregnancy and childbirth. He is careful to use techniques that avoid unneeded pressure on the abdomen and will promote your overall comfort and safety.
Monday
9:30am - 12:30pm
3:00pm - 6:00pm
---
Tuesday
9:30am - 12:30pm
3:00pm - 6:00pm
---
Wednesday
9:30am - 12:30pm
3:00pm - 6:00pm
---
Thursday
8:30am - 12:30pm
2:00pm - 6:00pm
---
Friday
8:30am - 12:30pm
2:00pm - 6:00pm
---
Saturday
8:30am - 12:30pm
Doyle Chiropractic & Acupuncture
9630 Sherrill Estates Road Suite B
Huntersville, NC 28078
(704) 947-7272
Safe & Effective
Member of ACA & NCCA
Serving Huntersville Since 2004
Blend of Modern & Traditional