Best Huntersville Chiropractic
Best Huntersville Chiropractic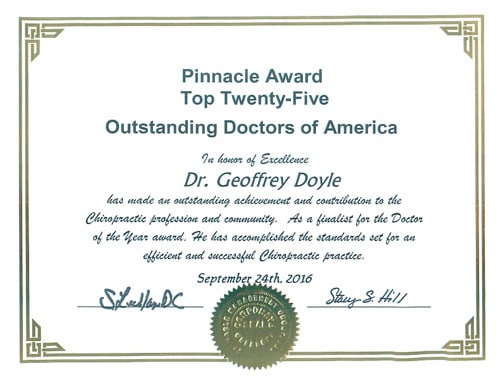 Dr. Doyle was voted "Top 25 Doctors in America" in a recent national survey of medical professionals. This is only possible because of all our amazing patients. We are humbly honored to have you all as part of our office family. If there is ever anything that we can do for you or your family, please don't hesitate to ask. We love you all and look forward to seeing you soon!
Sincerely,
Dr. Geoffrey A. Doyle, Kasie & Laura
Doyle Chiropractic and Acupuncture
704-947-7272
Always striving to be the best Huntersville chiropractic office!
Monday
9:30am - 12:30pm
3:00pm - 6:00pm
---
Tuesday
9:30am - 12:30pm
3:00pm - 6:00pm
---
Wednesday
9:30am - 12:30pm
3:00pm - 6:00pm
---
Thursday
8:30am - 12:30pm
2:00pm - 6:00pm
---
Friday
8:30am - 12:30pm
2:00pm - 6:00pm
---
Saturday
8:30am - 12:30pm
Doyle Chiropractic & Acupuncture
9630 Sherrill Estates Road Suite B
Huntersville, NC 28078
(704) 947-7272
Safe & Effective
Member of ACA & NCCA
Serving Huntersville Since 2004
Blend of Modern & Traditional